Would you like to make your own soap on a budget? Here is the recipe for you!
The soap is still very nourishing and a wonderful soap for later experiments, without ruining you.
The cheapest recipe is made from leftover animal fats from cooking, we have a recipe on that HERE but if you (like most people) prefer vegan soap, this is the recipe for you.
This cheap soap recipe is also perfect for people who like to experiment with colors, scents, or techniques. We love soapmaking, and you may sell the soap without paying for the recipe, but we absolutely love a link or being mentioned.

soap-recipes.com
This soap is not only cheap, it couldn't hardly be any easier. It is made by 3 equal amounts of oils and by using the cold process method.
As you can see in the Soap Quality chart, this recipe is not very creamy. We get about this by exchanging some of the water for milk. The heavier your milk is, the more creamy your soap will become. You can even use cream or vegan kinds of "milk" like Almond or Oat for a complete vegan soap.
How to add milk to a soap recipe
There are two safe ways to add milk to your recipe:
One is to freeze the milk and use it in your Lye, or you can add it to your oil phase and stick blend it before mixing the lye and the oils.
You should not use milk with your NaOH without freezing it because it can give the finished soap an unpleasant color.
Oils used in this recipe
Here are links on where to buy the oils used in this recipe.
Please support www.Soap-Recipes.com by using our affiliate links to Amazon.com.

Benefits of the oils in this recipe
Olive Oil makes a great, mild, purifying, and moisturizing soap, that will not clog your pores. Instead, it will help dissolve bacteria, excess sebum, and dead skin.
Coconut Oil makes your bar of soap harder and very cleansing. It is a great moisturizer for both the skin and helps remove dead skin cells and dirt from the skin. The oil also helps prevent or reduce acne and firm up your skin and make you look younger as the soap is rich in antioxidants.
Canola Oil is one of the cheapest oils for soap-making, but don't be fooled. It is a great oil for soapmaking. It contains Vitamin E, an antioxidant that will help protect your skin from free radicals. It also contains omega 3 and omega 6 fatty acids that help combat premature aging and soothe dry, irritated skin.
One of the main causes of using Canola Oil is that it will slow down the rate your soap gets to trace. So it is perfect for swirls and other techniques that take time.
Recipe percentages, lye, and superfat
This information is for advanced soapers. Go to recipe if you are new to soap making.
33,3% Olive Oil
33,3% Canola Oil
33,3% Coconut Oil 76 deg
38% Water percent of oil weight
27.540% Lye Concentration
4% Superfat
22 oz Total oil weight (624g)
Soap Quality
| | | |
| --- | --- | --- |
| Soap Quality | Range | This Recipe |
| Hardness | 29 – 54 | 34 |
| Cleansing | 12 – 22 | 22 |
| Conditioning | 44 – 69 | 61 |
| Bubbly | 14 – 46 | 22 |
| Creamy | 16 – 48 | 12 |
| Iodine | 41 – 70 | 68 |
| INS | 136 – 165 | 140 |
Recipe for Cheap Vegan Soap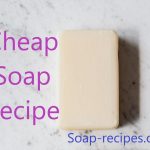 Print
Cheap Vegan Soap Recipe
Equipment
2 plastic, glass, or steel bowls

Wooden or plastic spoon

Stick blender

Thermometer

Silicone molds

Kitchen scale

Microwave oven

pH meter or test strips

Safety gear
Materials
7.33

oz

Olive Oil

208 grams

7.33

oz

Canola Oil

208 grams

7.33

oz

Coconut Oil

208

3.18

oz

NaOH

90 grams

8.36

Water

237 grams

OR
Substitute some water with milk
6.36

oz

Water AND

180 grams

2

oz

Milk

57 grams
Instructions
Use the cold process method

Substitute water for milk as described above
Soap Fatty Acid Profile
| | |
| --- | --- |
| Lauric | 16 |
| Myristic | 6 |
| Palmitic | 9 |
| Stearic | 3 |
| Ricinoleic | 0 |
| Oleic | 46 |
| Linoleic | 12 |
| Linolenic | 3 |