How about bathing in this lovely scented autumn soap full of healing vitamins for your skin?

Rosehip Oil is claimed to have a moisturizing effect: Anti-aging against wrinkles, against stretch marks, scars, repairing damaged skin, and provides moisture and glow to the skin.
This soap is made with Hot Process Look here for guide: LINK
You can also make this soap by using the cold process.
Oils used in this recipe
Here are links on where to buy the oils used in this recipe.
Please support www.Soap-Recipes.com by using our affiliate links to Amazon.com.

Recipe percentages, lye, and superfat
30% Olive Oil
30% Coconut Oil
18% Shea Butter
10% Rosehip Oil
12% Castor Oil
38 Water percent of oil weight
5% superfat
26.9% Lye Concentration
0.5 Fragrance Ratio
Soap Quality
| | | |
| --- | --- | --- |
| Soap Quality | Range | This Recipe |
| Hardness | 29 – 54 | 38 |
| Cleansing | 12 – 22 | 20 |
| Conditioning | 44 – 69 | 58 |
| Bubbly | 14 – 46 | 31 |
| Creamy | 16 – 48 | 28 |
| Iodine | 41 – 70 | 68 |
| INS | 136 – 165 | 142 |
Recipe for Autumn soap with Rosehip Oil and Apple Scent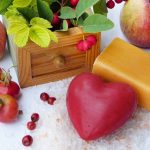 Print
Autumn soap with Rosehip Oil and Apple Scent
Equipment
2 plastic, glass, or steel bowls

Wooden or plastic spoon

Silicone molds

Stick blender

Thermometer

pH meter or test strips

Double Boiler, Slow Cooker or Crockpot

Kitchen scale

Safety gear
Materials
3.60

Olive oil

102 grams

3.60

Coconut oil

102 grams

2.16

Shea Butter

61 grams

1.44

Castor Oil

41 grams

1.20

Rosehip Oil

34 grams
Soap Characteristics
| | |
| --- | --- |
| Lauric | 14 |
| Myristic | 6 |
| Palmitic | 8 |
| Stearic | 9 |
| Ricinoleic | 11 |
| Oleic | 33 |
| Linoleic | 10 |
| Linolenic | 3 |