This shampoo bar will not stripe the hair of natural oils and allow it to retain moisture while balancing hair oil production. This is achieved by it's the combination of using high conditioning oils and no-cleansing oils. Apple Cider Vinegar gives a hard bar of shampoo and makes it easy to use. ACV is believed to be conditioning, but we do not know for a fact, that this is the case after saponification. Read more about adding vinegar to soap here.
The conditioning shampoo bar is added a little sugar to give it more bubbles.
Benefits of this shampoo bar
Shine
Volume
Retains color
Less dandruff and scalp irritation
Less frizz
less shedding
Defined curls
Increased manageability
Protects the cuticles of the hair
The cuticle is your hair's protective layer, composed of overlapping cells — like fish scales or roof tiles, but facing downwards

www.philipkingsley.co.uk
Recipe percentages, lye, and superfat
This information is for advanced soapers. Go to recipe if you are new to soap making.
40% Olive Oil
30% Avocado Oil
15% Shea Butter
15% Castor Oil
24.667% Lye Concentration + (0.0357 x amount of 4% ACV)
38% Water percent of oil weight
35% water substituted for Apple Cider Vinegar
6% Superfat
22 oz Total oil weight (624g)
1 tbsp Sugar per 16 oz oil
Soap Quality
OBS: Soap Quality information does not include benefits of sugar and Apple Cider Vinegar.
Zero Cleansing does not mean the bar will not clean your hair.
| | | |
| --- | --- | --- |
| Soap Quality | Range | This Recipe |
| Hardness | 29 – 54 | 20 |
| Cleansing | 12 – 22 | 0 |
| Conditioning | 44 – 69 | 77 |
| Bubbly | 14 – 46 | 14 |
| Creamy | 16 – 48 | 34 |
| Iodine | 41 – 70 | 82 |
| INS | 136 – 165 | 103 |
Recipe for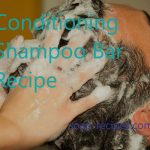 Print
Conditioning Shampoo Bar with Apple Cider Vinegar, Shea Butter & Sugar
Equipment
2 plastic, glass, or steel bowls

Wooden or plastic spoon

Stick blender

Thermometer

Silicone molds

Kitchen scale

Microwave oven

pH meter or test strips

Safety gear
Materials
8.8

oz

Olive Oil

250 grams

6.6

oz

Avocado Oil

187 grams

3.3

oz

Shea Butter

94 grams

3.3

oz

Castor Oil

94 grams

2.92

oz

Apple Cider Vinegar

83 grams

1,5

tbsp

Sugar (powdered)

5.44

oz

Water

154 grams

2.84

oz

NaOH

81 grams
Instructions
Dissolve sugar in approx 2 oz (50 grams) of the water (You can heat it up slightly or just stir).

Mix Apple Cider Vinegar with the rest of the water, and add NaOH to make your Lye. Let it cool down to room temperature

Melt Shea Butter (use microwave or double boiler) and mix it with the rest of the oils

When everything is room temperature, add the lye to the oils and stick blend until light trace

Add the sugar water, stick blend until trace and pour into molds

Check after 6-8 hours if your soap is ready to be unmolded and cut. It should take no more than 24 hours

Let the soap rest and cure for 4-6 weeks and check pH. It should be no more than 10
Soap Fatty Acid Profile
| | |
| --- | --- |
| Lauric | 0 |
| Myristic | 0 |
| Palmitic | 12 |
| Stearic | 8 |
| Ricinoleic | 14 |
| Oleic | 53 |
| Linoleic | 10 |
| Linolenic | 0 |